Toronto-area Knights rally support for Syrian refugees at home and abroad through creative initiatives – by Mike Mastromatteo
Rami Kaai, a member of Jesus the King Arab Christian Council 15045 in Thornhill, Ontario, sits with his wife, Hiyam Kholi, and children, Jad and Naya, inside Jesus the King Melkite Catholic Church. (photo by Nadia Molinari)
As Syrian Christians wait with grim determination for the return of peace and stability after two years of civil war, a Knights of Columbus council half a world away is working steadily on their behalf.
Rami Kaai, financial secretary of Jesus the King Arab Christian Council 15045 in Thornhill, Ontario, is a native of Homs, Syria, one of the hardest-hit areas in the war. Kaai arrived in the Toronto area with his wife and two children in 2006. He is now a member of a newly formed Syrian-Canadian coalition dedicated to supporting Syrian Christians who are struggling for survival.
In addition to standing with Kaai and the coalition's efforts to raise awareness of the turmoil in Syria, Knights at Jesus the King Melkite Catholic Church are engaged in several hands-on projects. Under the leadership of Grand Knight Hikmat Dandan, the recently launched "Food for Syria" program supports displaced and hungry Syrians, while the award-winning "Jerusalem Students" project and the "Churches for Jesus" rebuilding initiative continue to lay foundations for future generations of Christians in the Middle East. Such projects offer concrete ways for the larger Christian community in the West to reach out and help their Eastern brothers and sisters in need.
THE SUFFERING IN SYRIA
Christians have long been an important minority in Syria, composing roughly 10 percent of the country's 22.5 million people. Since the civil war began in March 2012, more than 2 million Syrians — among them some 500,000 Christians — have fled to Lebanon and elsewhere. Kaai and his family immigrated to Canada six years before the violence started. Their relatives and millions of others haven't been as fortunate. Kaai's parents and two of his brothers are now in Lebanon, where Syrian refugees account for roughly a quarter of that country's population.
Kaai recounts harrowing tales of violence, gunfire, ruined churches and abandoned neighborhoods in Homs, which he visited just over three years ago. Although the war had not yet begun, the country was in a state of unrest. Kaai witnessed row upon row of abandoned streets and houses. "Even the church where my wife and I were married is now practically ruined," he said.
Kaai's wife, Hiyam Kholi, also related how, shortly after they emigrated to Canada, she discovered that her parents had been turned out of their home. "I happened to telephone my parents' house in Homs, and instead of getting my mother or father on the line, there was some stranger who told me my parents didn't live there anymore," Kholi said.
She later learned that her parents had made it to a refugee settlement in Lebanon, where they await word on whether they can return to Syria or perhaps obtain a visa for resettlement in Ontario.
Such wrenching experiences are typical of the general hardship confronting Syrians and other Christian communities in the Middle East. The "Arab Spring" movement of 2011 was heralded as a bold push for democratic reform and openness, but for many Christians in Syria and elsewhere, it has only led to strife and suffering. Like their brothers and sisters in Iraq, Syrian Christians have struggled for survival while enduring separated families, destroyed churches and holy places, and the harassment, arrest and kidnapping of clergy.
It is especially significant that Syrian Christians now face such adversity. According to the Syrian-Canadian coalition, Syria was long considered a refuge for Christians fleeing persecution in other parts of the Middle East, since the Christian population there enjoyed more rights and freedom of religion than many other countries in the region. With the onset of the civil war, however, Christians were pressured by both government forces and rebels to take sides in the conflict. Their unwillingness to do so has led to increased attacks on Christian communities and churches by Islamist elements in the rebel alliance.
Syrian Christians have remained neutral throughout the struggle, Kaai explained. "The people there are basically innocent bystanders caught up in the crossfire."
In addition to the 2 million who have fled the country, the United Nations estimates that 6.5 million Syrian nationals remain either internally displaced or virtually under siege in their own communities. As rebels, the Syrian army and assorted militias battle for control, U.N. sources report that at least 100,000 people have been killed in the conflict.
ARAB COUNCIL OUTREACH
While the international community monitors the situation and weighs its level of involvement, K of C Council 15045 is quietly lending its own brand of assistance. Established in May 2010, the 60-member council seeks opportunities to raise awareness of the plight of Syrian Christians, to provide assistance to refugees, and to fortify the Church in and around the Holy Land.
Dandan and Kaai are among those who actively support the Syrian-Canadian coalition, which has been advocating for easier immigration for Syrian refugees to Canada since last March.
As part of his involvement, Kaai works with the Archdiocese of Toronto's Office of Refugees to lobby the Canadian government to expedite visas for up to 1,300 Syrian refugees. Kaai and his coalition colleagues arranged a meeting in March 2012 with Jason Kenney, Canada's federal immigration minister and a member of St. Albert the Great Council 12446 in Calgary, Alberta, to present their concerns. In response, the Canadian government agreed to the creation of a program for Syrian refugees, similar to an existing initiative for Iraqi refugees.
Dr. Martin Mark, director of the archdiocese's refugee office, recently presented a seminar at Jesus the King Parish to outline the latest developments. He explained the benefits of the "Private Sponsorship of Refugee" program, which allows parishes, religious orders and other groups in the archdiocese to provide assistance. So far, there are at least 166 parishes, 10 religious orders and five other Catholic groups participating in the program.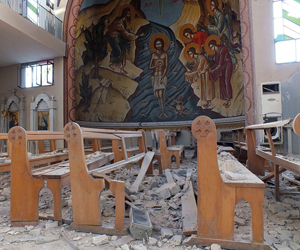 Debris is seen on the floor of Saydet Al-salam (Our Lady of Peace) Church in Homs, Syria, which was damaged during clashes between Syrian rebels and the Syrian regime in 2012. The Melkite Catholic church is where Rami Kaai and his wife were married and where their two children were baptized. (CNS photo/Yazen Homsy, Reuters)
Mark praised the work of Council 15045: "The Knights' work assisting refugees shows the strength of brotherhood and the fantastic charity of the Church, which saves lives."
Grand Knight Dandan has long been concerned about the threats to Christians and places of worship in the Holy Land. He is deeply troubled by the diminishing Christian population in Syria and elsewhere. He fears the Holy Land will become "a museum of Christianity."
"The situation is by no means a recent concern," Dandan said. "We're especially worried that without support from the outside world, we might soon end up with a Holy Land that has no Christians living in it."
Well before the Syrian civil war and the Arab Spring brought additional unrest, the Middle East saw an exodus of Christians as they fled instability, violence and occasional intimidation by Islamist groups. Now, in addition to a shrinking Christian population, many of the most precious church buildings and artifacts face the threat of ruin or desecration, said Dandan. Even the ancient language Aramaic, spoken by Christ during his time on earth and still spoken today in the Syrian village of Maaloula, is in danger of extinction as local people look to escape.
In 2010, Council 15045 established its "Jerusalem Students" project — JerusalemStudents.org — to support education and community development in a small town near Bethlehem. Through individual and shared student sponsorships, K of C councils are invited to help Christian students in the Holy Land continue their education in the hope that they will become future leaders in their communities. The program earned Council 15045 the International Youth Service Award at the 131st Supreme Convention this past August. In tandem with its support for Syrian refugees, the council also intends to take up church reconstruction efforts once the crisis improves. Dandan launched the project — ChurchesforJesus.org — in 2000, when he was a member of North York Council 4393, in order to help rebuild a church in Lebanon.
CRADLE OF CHRISTIANITY
Melkite priest Father Georges Farah, pastor of Jesus the King Melkite Catholic Church and a charter member of Council 15045, is in a unique position to appreciate the threats to churches and holy sites in the Middle East. As an authority on the history of Christian Arabs in Syria, Father Farah sees the current situation as part of a long struggle for survival.
According to Father Farah, the majority of the rebel forces now fighting in Syria are from other countries, and in effect are carrying out their jihad, or holy war, in Syria. It is ironic, he added, that Syrian Christians should be under such pressure, considering that the city of Antioch, one of the four cities of the Syrian tetrapolis, is regarded as the cradle of Christianity.
"Christians there have always been peaceful, living in harmony with the Syrian Muslims of all factions, but whenever there was an imbalance or period of unrest, the leaders took it out on the Christian groups, describing them as invaders, even though many of them have been there since the beginning, centuries before Islam,," said Father Farah.
Father Simon Faddoul, president of Caritas Lebanon, observed that the struggles of Christian communities are not limited to Syria.
"Christians continue to flee countries like Iraq, Egypt, the Holy Land, Lebanon and Syria, driven by wars, conflicts, persecution and the dream of a better world and times for their families," Father Faddoul explained via email. "The numbers are becoming scary. The Holy Land has only about 50,000 remaining Christians. Lebanon continues to bleed, although it's the only country in the area where Christians have full freedom and have a say in the political fate of the country, and where the president is Christian."
Father Faddoul added that Christians throughout the world have a stake in preserving a Christian presence in the Middle East, citing Pope Benedict XVI's 2012 apostolic exhortation Ecclesia in Medio Oriente.
"Pope Benedict XVI pinpointed the fact that the area's Christians go back to Christ himself and his Apostles," Father Faddoul said. "As such, they are called to live out their faith freely and truthfully. However, this has not been possible in the light of the consecutive wars and persecutions they have been subjected to in recent decades, especially after the 2003 Iraq invasion and now with the so-called Arab Spring, which has turned out to be a 'stormy winter' for the whole region and its inhabitants."
To offer further assistance, Council 15045 has also established a new initiative, "Food for Syria," aimed at raising funds to provide basic food staples to Christians in Syria and in refugee camps.
Dandan stated that while the council is dedicated to rebuilding ruined churches once stability returns to Syria, there are pressing needs that must be addressed right now. "We have to take care of human beings first, the stones later," he said.
Dandan urged the creation of a Food for Syria program and its accompanying website — FoodforSyria.org — which the council is preparing to launch. The goal is to encourage people throughout the world to make small donations, which will be used to help feed hungry, displaced Syrian Christians.
However the present struggle plays out, Kaai and Dandan will remain resolute in their charitable work, reaching out to those in need in a spirit of solidarity and hope.
"The whole purpose of our outreach efforts is to enlighten brother Knights and others about the suffering of Christians in Syria," Dandan said. "Our aim is charity, not politics. The ultimate objective is to lessen the suffering."
Mike Mastromatteo, a member of Blessed Trinity Council 11681, writes from Toronto.